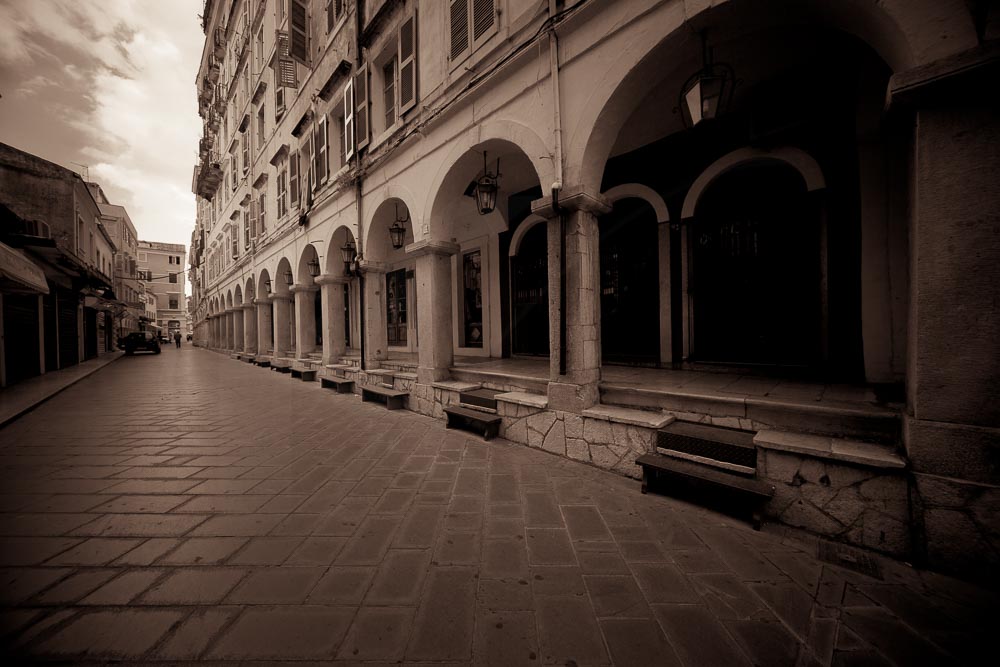 ©
2016 All CopyRights Reserved
---

The Old City - A Slice of Venice

Today a UNESCO World Heritage Site, the origins of the city date back to the 8th century BC, but what we see today is approximately 500 years old, built mostly by the Venetians, including the two fortresses. The rest of the surviving buildings, mostly neoclassic, were built by the French, British and Austrians during the last hundred years or so.

The old city of Corfu was one of the most strongly fortified cities of Greece, which despite the persistence of the Ottomans to conquer it, they never succeed, in fact Corfu is the only part of Greece never to fall in the hands of the Ottomans, to a large degree thanks to the brilliance of Venetian engineering.

As one would except, today these ancient streets cater mostly for the needs of tourists and with cafes, restaurants and souvenir shops aplenty, but despite this inevitable development, the greater part of the old city remains very authentic. Its all too easy to wonder away from the few busy streets and find yourself in another era, narrow streets between tall buildings with cloths hanging to dry between balconies, old people looking after their flowers, had it not been for the annoying presence of cars and scooters, it would be a scene out of a Hollywood film about Venice.

Despite its small size the city is packed with history, magnificent old builds and of course churches, 37 to be exact. If time allows, resist the impulse of taking one of the many organized walking tours of the old city. Yes, you will see all the famous places and get informed of all the numbers, but this is a place worth loosing yourself and letting imagination travel you to times gone by.
Also know as Kastropolis (city of Castels), the city is surrounded by two (technically three) fortresses. The Old fortress, which is actually two side by side fortress is separated from the island by a waterway effectlively making it an island in its self. Almost 800 years old it is one of the greatest attraction of the city and today hosts a large section of the Ionian Univercity.
Wondering in these ancient streets its easy to get carried away and ignore one of the most attractive areas of the old the city, its coastline. It may lack the golden sands of Glyfada beach in the west, there are several small beaches with pristine waters one of which, Alecos baths, is famous for being the favorite of the last king of Greece. So make sure to pack a towel along side your camera when heading for the old city.

As you would expect there is no shortage of places to rest, eat, have a coffee or a drink, but what may initially come as a surprise is the lack of loud clubs. Being a densely populated area, high noise levels are simply not allowed, of course there are many places to stay up late, you are still in Greece, just not places to go bonkers.

This small but colorful city has an addictive quality which cannot be explained, only experienced, there are countless people who have fallen for this mysterious attraction, some just keep coming back, some simply never left.





This site is in no way affiliated with or endorsed by specified business. It exists as a compendium of supporting information intended for informational purposes only. If you want to buy this website, please don't hesitate to contact us via e-mail: domain (dot) sales (dot) org @ gmail (dot) com or you can find and buy it on Afternic domain auctions.