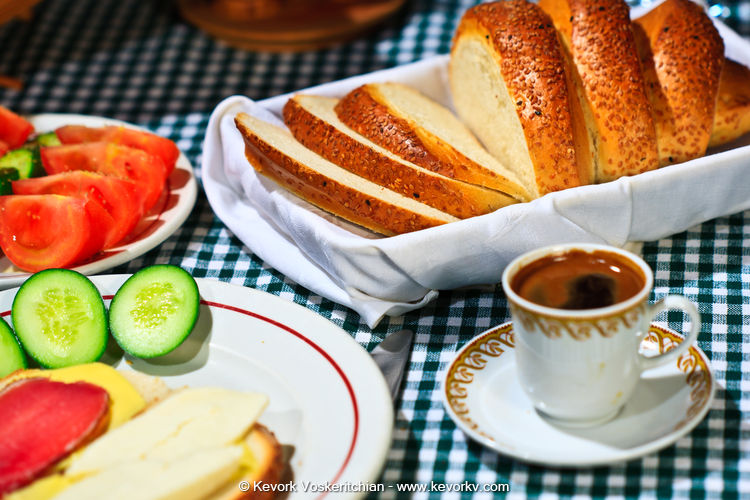 To say the Greeks know how to enjoy themselves is probably a gross understatement. From the famous "Zorba the Greek" to modern day clubs in Mykonos, Greece is the country that lends itself to having a good time. Of course the weather, sea, nature, all play a huge part on peoples mood, but what the Greeks have mastered over centuries is the skill of have a great time with whatever is available on hand. You don't need a mega yacht to have the time of your life, this is particularly true about Corfu, despite the large number of mega yachts anchored in Garitsa bay.

For some people a pick-nick basket with some fresh bread, fetta, olives and tomatoes at the edge of their favorite beach, is all that is needed to feel like a king.

But the first place you will see people enjoying themselves are not the beaches, but cafeterias, which outnumber ever other type of establishment by a huge margin, even tavernas !
So it should come as no surprise that the coffee, Greek, espresso, or otherwise is generally very good on the island and if you know where to go, as good as it gets in Italy. Such is the demand for coffee, there is even an artisan coffee roaster on the island, making sure the coffee is always fresh.

The choice of venues to have a coffee, sweet, or light snack are endless, from tiny places hidden in the narrow streets of the old city, to breathtaking spots at the edge of the Ionian sea.

To state the obvious, you will have no trouble finding traditional Greek cuisine no matter where you are, but as good and healthy as it can be, after a week or so you will be looking for some alternatives. On smaller islands this can be challenging, but Corfu offers an exceptional (for a Greek island) choice of food.

©
2016 All CopyRights Reserved
---

At the top of the food chain, a small village close to town host one of the highest awarded restaurants in the whole of Greece. In the centre of town you will find a handful of high end restaurants from Italian to nuvo cuisine, Chinese, Mexican and of course all the typical fast food offerings.

But the Corfu town is no longer the only place to enjoy fine dining, there is now a small but select choice of idyllic locations with great food.

Corfu town also has a big variety of places to continue the evening into the late night. One of the few islands to have a licensed casino, a wide variety of bars and several night clubs, some right by the sea. Outside the town, the choice varies depending on the size and location of the resort or village. It can vary from the local coffee shop where typically all the men would gather to get away from their wives, karaoke bars for discovering new talents, beach parties on the larger beaches, late night cruise boats and of course outrageous behavior by the young and not so wise at Kavos.

Corfu may not have the glitz of places like Monte Carlo, but it does have a lot to offer and without a heavy price tag.


This site is in no way affiliated with or endorsed by specified business. It exists as a compendium of supporting information intended for informational purposes only. If you want to buy this website, please don't hesitate to contact us via e-mail: domain (dot) sales (dot) org @ gmail (dot) com or you can find and buy it on Afternic domain auctions.