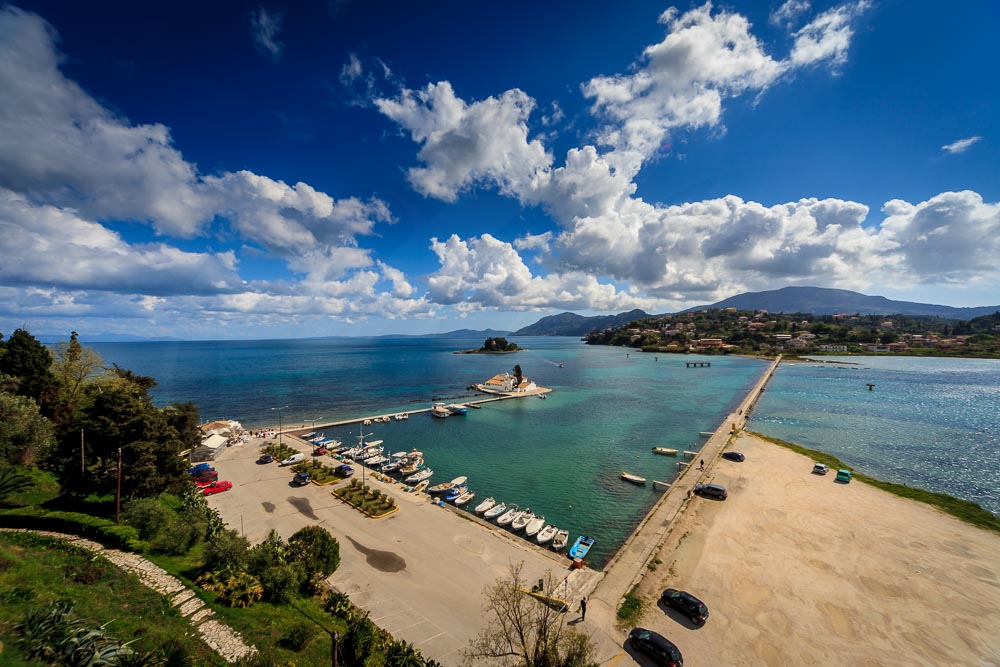 Although the highlight of the island is of course the Old City, the little peninsula right next to it, is in fact the first settlement of the island and carries an awful lot of history, it is also a very, very pretty place to visit.

One of the reasons it was such an important location is the large natural lagoon, which served as the first port of the island, today host's the islands intentional airport, a testament of just how important this location was. It also happens to be one of the several natural reserves of the island.

The peninsula is almost entirely covered in a thick, mature forest almost sub tropical in nature, with several gentle hills along its length providing some great vantage points, the most famous of which is right at the entrance of the lagoon guarded by a canon (kanoni is Greek), from which the region takes its name. Its also the point from where millions of photos have been taken of the famous "mouse island" and the monastery of Vlacherna.

The other famous location is of course the palace and gardens of Mon Repo, a small but charming palace, built in 1826 by the British Commissioner Frederic Adams as a gift to his Corfiot wife, Nina Palatianou. Its considerable gardens are now open to the public and the small pier, once used by royalty to dock their boats, now provides access to the sea for swimmers.

In and around the palace are the ruins of "Paleopolis" or the ancient settlements of the islands, in fact the main building of the palace is used as a museum to house some of the many findings.

Thanks to its proximity to town and airport, there is a good number of hotels offering a substantial number of beds, to the limited number in the city centre. For the same reasons its also a very popular residential area, so there is a regular bus service, even a taxi depot.

Perhaps the only thing which has prevented Kanoni from becoming an exotic location is the lack of beaches. There are a couple of small sandy beaches, but they pale in comparison to what the island has to offer. On the plus side, swimming around the dark green forest above the rugged coastline of the peninsula, not to mention the Mouse island, is quite spectacular in its own right.

©
2016 All CopyRights Reserved
---
The Kanoni Peninsula







This site is in no way affiliated with or endorsed by specified business. It exists as a compendium of supporting information intended for informational purposes only. If you want to buy this website, please don't hesitate to contact us via e-mail: domain (dot) sales (dot) org @ gmail (dot) com or you can find and buy it on Afternic domain auctions.