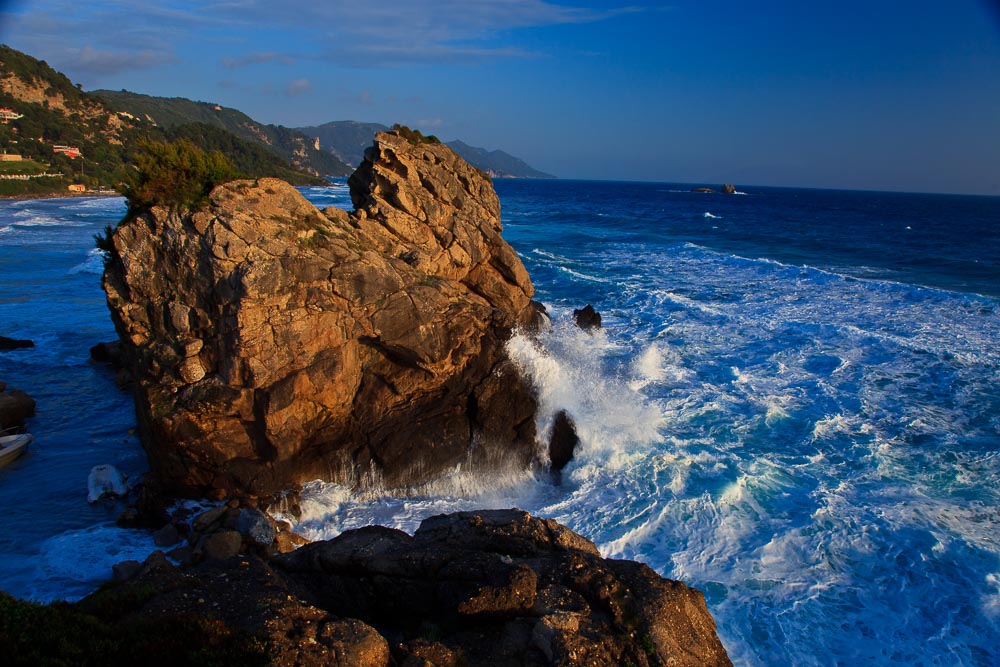 ---


Arguable the best beaches of Corfu, this little strip of coastline could almost be tropical, rather than Mediterranean. Facing south which brings most of the rain to the island and fully exposed to the Sun, makes it one of the greenest parts of the island. Those powerful southerly storm which carry the rain, are also responsible for shaping the landscape.

Between the tall cliffs and large rocks are pockets of heavenly beaches, soft golden sands, washed with turquoise waters and huge dark green forests as a backdrop. It really does not get much better than this. There are three fairly large beaches with numerous smaller ones in between, but they all share the same basic character.

As you would expect these beaches are very popular and busy throughout the summer, access from town is easy, there are even regular bus services and all the amenities you would expect to find.

Most of these beaches are exposed to the summer winds, but not directly. When its very windy, above a force 5, the beaches begin to become uncomfortable, while a couple of hundred meters offshore it can get quite rough. Some of the swells will reach the beach so a little care needs to be taken. Be also aware there are shallow reefs in many places, clearly visible when calm, but can be hard to spot in breaking surf. Don't go imagining Hawaiian waves, coral reefs and sharks, no these are very mild conditions by any standard, its just good to be aware and sensible.

These beaches are suitable for most types of water sports, but not, as you might expect for sailing, kite or windsurfing. These may sound odd given the fact it does get windy. The problem is that the wind is weak and turbulent near the beach and gets progressively stronger as you go out, which will get most novices into serious trouble more often than not.

For most other sports its find, Stand Up Boards are becoming increasingly popular as you can enjoy the stunning surroundings when calm and surf the waves when windy.

Its hard to imagine spending any length of time in Corfu and not paying a vist to one of these beaches.
The beaches from Ermones to Ay. Gordios





This site is in no way affiliated with or endorsed by specified business. It exists as a compendium of supporting information intended for informational purposes only. If you want to buy this website, please don't hesitate to contact us via e-mail: domain (dot) sales (dot) org @ gmail (dot) com or you can find and buy it on Afternic domain auctions.